Tomorrow is Ash Wednesday. The beginning of the forty-day Lenten season, which, when engaged intentionally, draws us closer to God and each other. I have a confession to make: it's been a few years since I sat with God and unhurriedly chose which Lenten practice could transform my life with God. I spent some of my Sabbath yesterday thinking about my commitment to observe a Holy Lent this year. The last few years have been so grief-filled, hectic, and "COVID strange" that my whole Lenten plan was to survive and help our congregation and community get through it all.
The thing is that Lent is my favorite season of the Christian year. I NEED and LOVE the intentionality of Lent. I yearn for the structured focus to draw nearer to God. And, well, I used to be good at it. The disciplines of leaning in, giving up, and taking on are practices that my soul grabs ahold of tightly.
This year things are so busy, and it's a different kind of rhythm than I'm accustomed to living through in the ministry. I've been working non-stop. But not check-the-box kind of task-oriented work. This work is heavy lifting, investment-orienting, focusing, visioning, dreaming, bring to fruition kind of all-in, all-consuming work. It's the kind of stuff that is hard to shut off at the end of the day because you're so engaged! [By the way, almost every pastor I know is having to PIVOT into this kind of work. Pray with and for them, help them, (COVID safe) hug them, grant them grace, and encourage them!]
Atlanta First UMC's affordable housing development project requires all the energy I have most days. And I love it! And yes, I'm still trying to preach, teach, pray, study, administrate, care/visit/call, plan, lead, manage, fix, fundraise, share, and ALL the other things pastors have to do. And did I mention the email?!? OMGEEEEEEEE!!!! The email! Oh! And Zoooommmm, Teams, & whatever else you want to stare at all day long. Then there are the denominational, conference, and community commitments. Notice that I mentioned not one thing outside of work because, well, there's just no more time. I'm blowing through my off days and Sabbath days. I know that it's neither physically nor spiritually healthy or sustainable. Yet, sometimes, my "overdeveloped sense of responsibility" (That's what my therapist calls it!) overrides my common sense.
I'm not complaining. I'm sharing the reality of the situation. In fact, I'm the happiest and healthiest that I've been in a long time. This season of ministry is the sweetest spot. I think that's why it's so easy to be so busy right now! Even so, the season of Lent is upon us…
Before all the madness of just trying to survive, I used to take on something (usually a fruit of the Spirit (Galatians 5:22-23)) and give up something for Lent (a habit/practice/thing/etc. that distracts me from God and that I do not plan to return to once Lent is over). I've decided that 2022 will be my return to this spiritual discipline. But first, I had to ask God to pardon me for my lack of attention to this critical season in the years before. And then, I had to forgive myself, get over it, and try…again.
This year, I'm reclaiming my peace and practice that brought me peace. I'm taking on a fruit of the Spirit: PEACE. I don't know about you, but I could use more peace in my life and this world. I'm giving up a practice: over-scheduling/giving over my Sabbath & off days to overflowing to-dos, email catch up, that meeting I couldn't fit in, unscheduled/pop-up/urgent to someone else tasks, etc.
To facilitate this, I'm reclaiming my love for photography. During the thick of the pandemic, I did a lot of videos and photography for worship, weekly congregational communication, and more. While I didn't mind doing it, my perfectionist tendencies kicked in and stole a lot of the joy and peace that I was used to getting through practicing photography. It went from a life-giving hobby to a weekly – no, a daily chore!
So, I'm taking my peace-giving hobby back! Want to join me in the Rethink Church Lenten Photo-A-Day Challenge? I will take the pictures with a real camera – not my phone (intentionality!). (For those who geek out about these things, I shoot with a Sony A7IV or Sony A6500.) I'll have to protect time to do this. So, prayerfully, by the time Easter comes, I'll be a more balanced, focused, rested, and faithful disciple of Jesus Christ.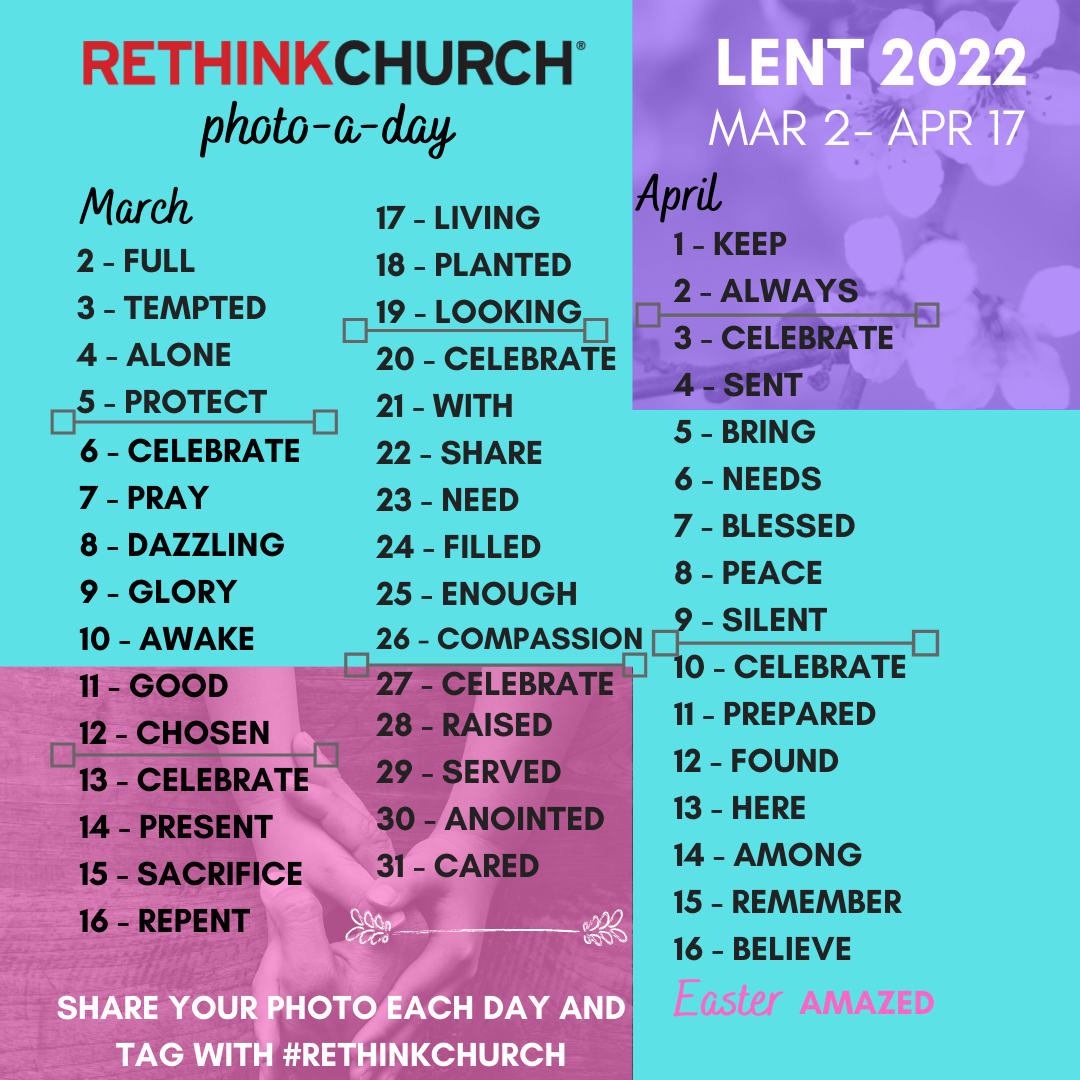 You can (publicly) follow along on my FaceBook page or Twitter account. (Instagram is my sacred digital space because boundaries are essential.) Feel free to encourage and ask how it's going. But mostly, spend some time with God and figure out where you and God need to be together when Lent is over. Then, use Lent to make it happen. Seriously. We all need this.
Love you all,
Pastor Jasmine
If you need a jump start for the Lenten season, I'd love for you to worship with me and the Atlanta First UMC community. Ash Wednesday worship is live online and in -person at Noon. Online only at 6:30pm. You are also invited to worship each Sunday at 11:00am ET! http://www.AtlantaFirstUMC.org/Live; Facebook; and Youtube!

Tweet